ABOUT THE PROJECT
After Verizon revamped its brand identity in 2016, the My Verizon App (MVA) that faces 110 million wireless subscribers needed to be refreshed to match and help express the brand. Verizon's in-house design team and AKQA collaboratively created MVA's new UI pattern library and remapped over 5500 pages. I worked on
ROLE & DURATION
Brand Refresh
Atomic Design System
Rapid Prototyping
Visual QA
Optimization

---
Time
&nbsp &nbsp Dec 2017 - March 2018
The previous app used more vibrant colors and illustration, however it suffers from a lame loading spead and brand character that did not impress and create recognition. Thus, with the new Pantagram-made visual identity, the apps faced an urgent need to refresh its experience to help expression the overall brand voice of "simplicity, honesty and joy", as well as to meet the modern accessibility standards.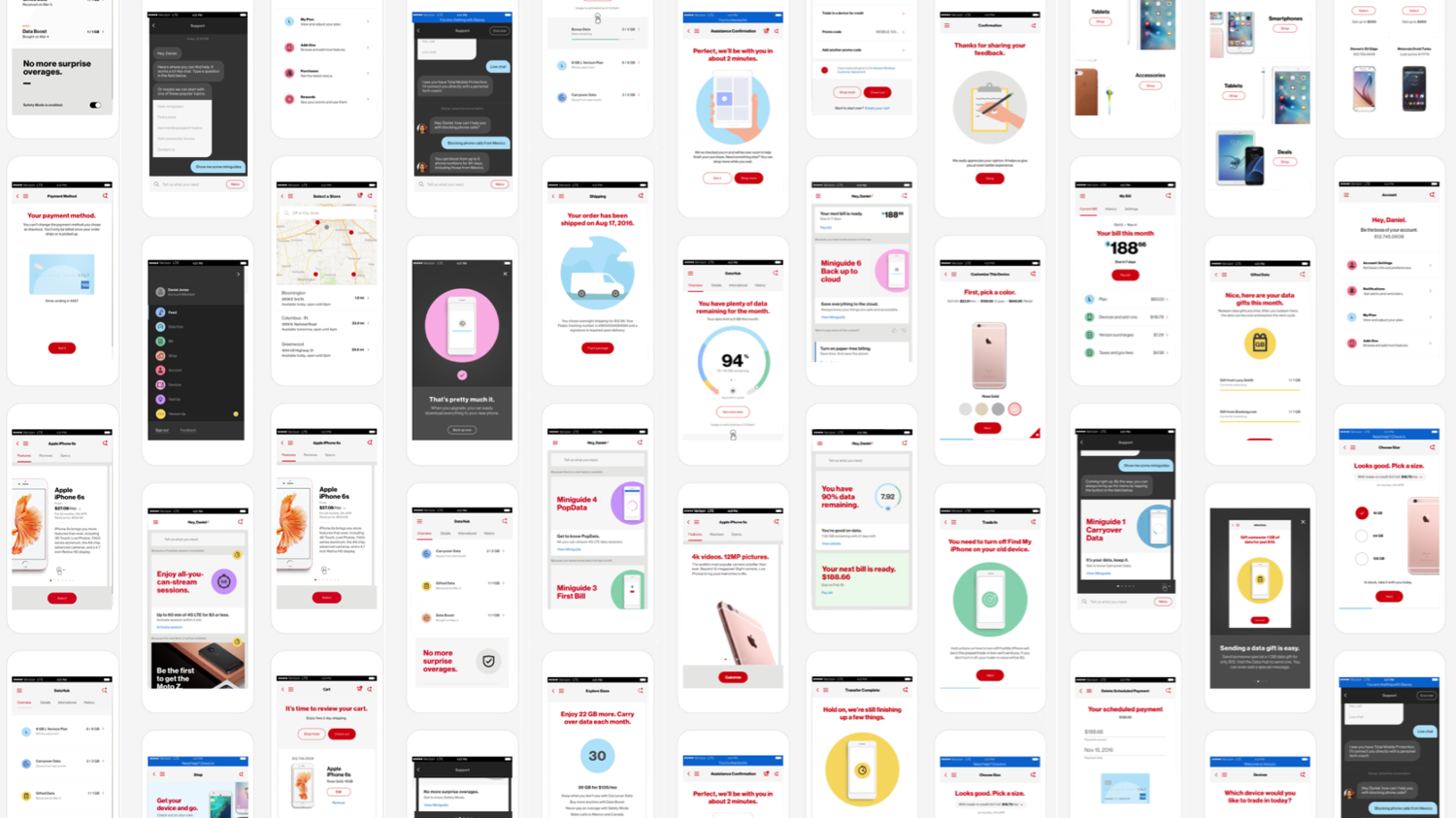 The design system was built based on the idea of Brad Frost's Atomic Design. The elements, modules, templates make it:
&nbsp&nbsp&nbsp&nbsp&nbsp&nbsp 1. friendly for engineers to assemble from designs
&nbsp&nbsp&nbsp&nbsp&nbsp&nbsp 2. friendly for designer to create and scale from the system
This process help deepen my understanding of the idea of atomic design, and also fully familiarized myself with the structure and details of the whold app and its building blocks.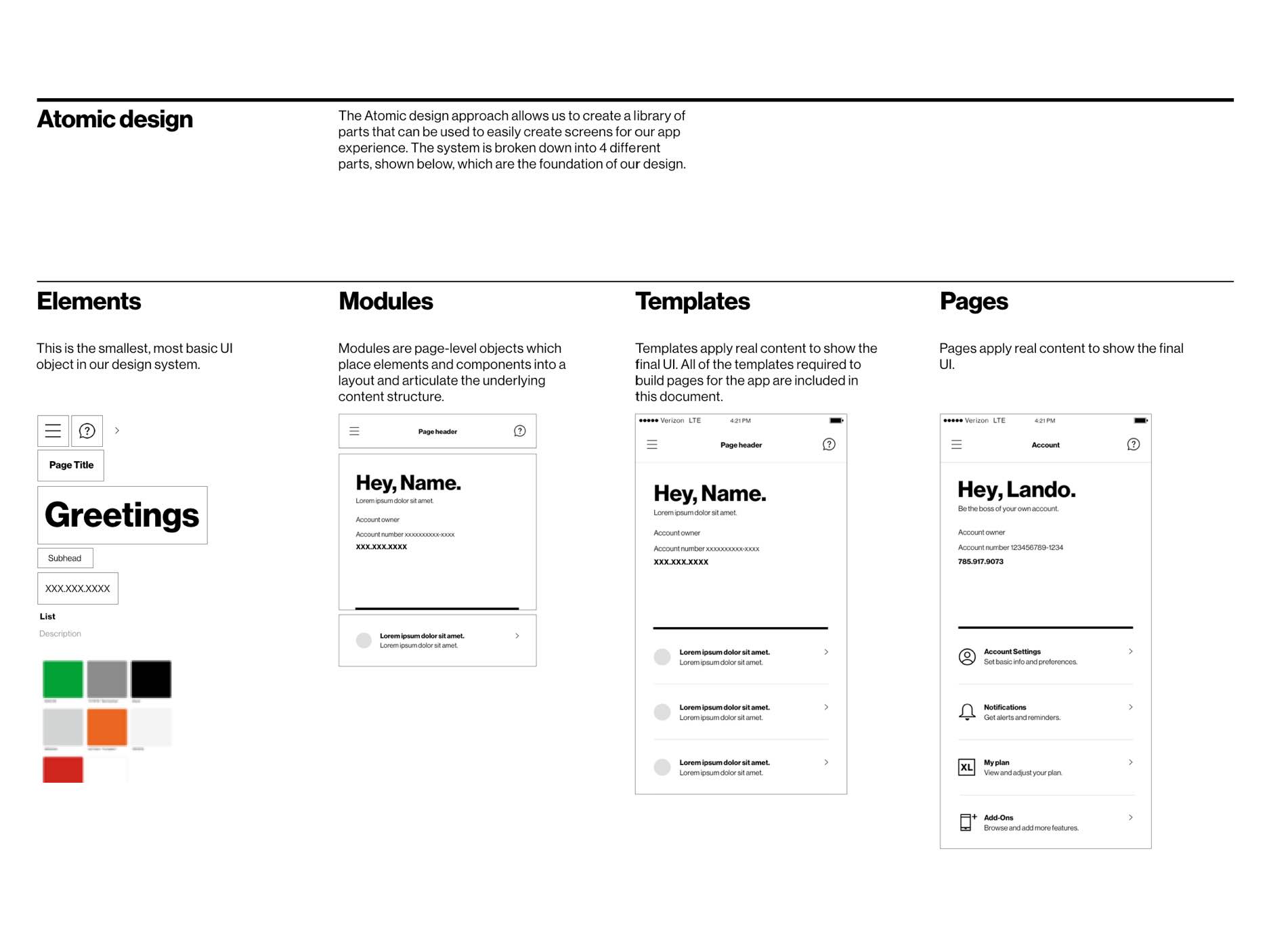 Instead of redesigning every single page of the entire app, we specified how original screens match up with the new design. During this process, we assessed the applicability of the design system, identified the gaps, and thus evolved it after evaluating on the needs. By doing that, we also specified some areas for optimization for the app experience.
Result &nbsp &nbsp The new My Verizon App has the average rating of 4.6 out of 5.0 (2.2M ratings) in Apple App Store, and 4.0 out of 5.0 (365K+ ratings) in Google Play Store.
CONTINUING: Optmization, New features, POCs
Optimization
After the brand refresh, we continuously optimized the app partenering with cx research team and using a lean approach in order to enhance and enrich the customer experience and improve performance metrics.
New Features
As Verizon's business expands, for example, 5G network, there are new requirements for features to be added to the app. Below is an example that allow 5G customers to self-check their device speed in each of the rooms.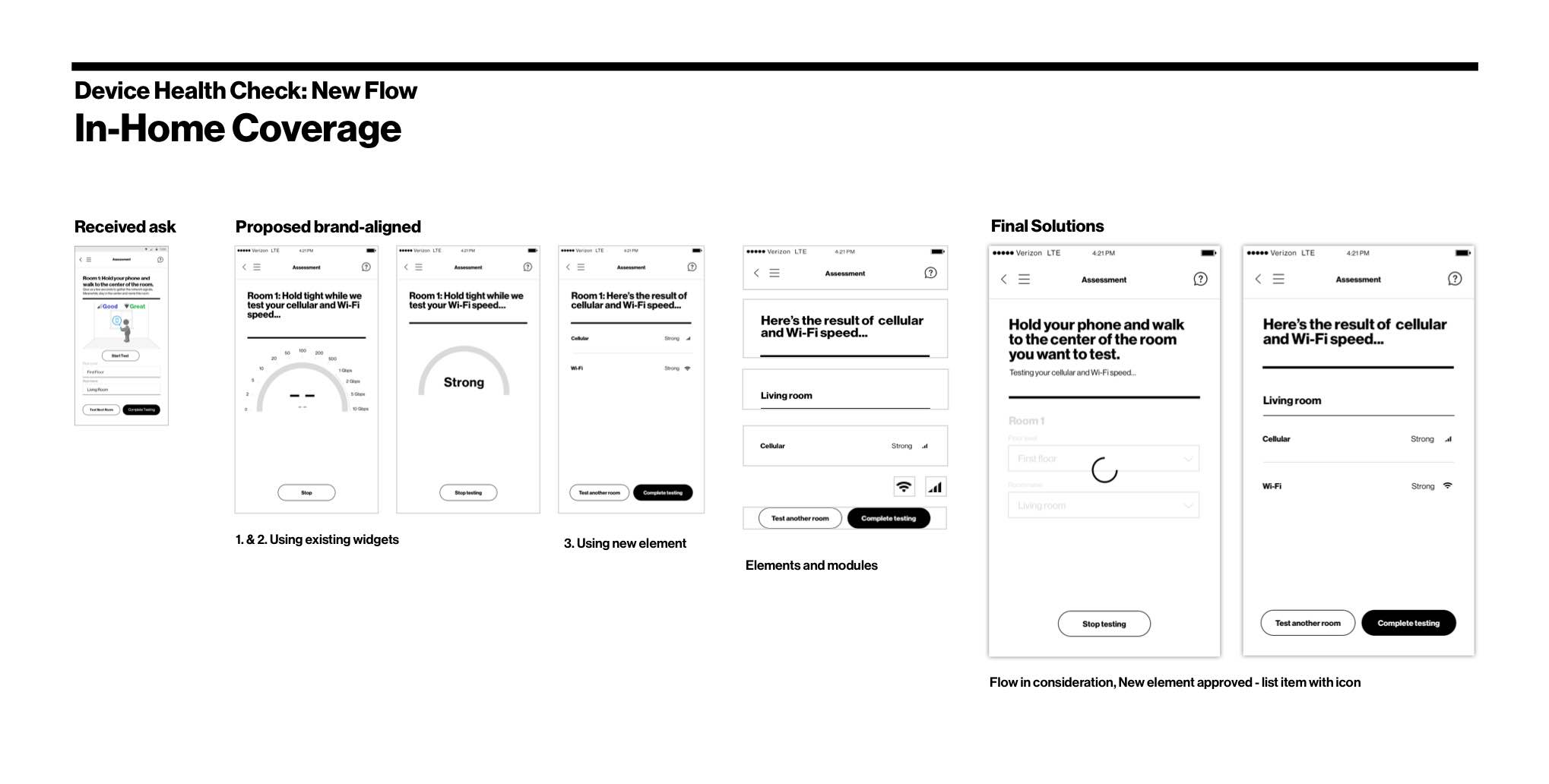 Proof of Concept Projects
Example Problem There is no current linkage to other Verizon applications (e.g. VZ Cloud, VZ FamilyBase, etc) from the My Verizon App. How might we provide an access and bridge to other Verizon apps from within the My Verizon app to promote exposure and link customer experiences?